Commitment:
- Telecommunication development should aim at realization of humans right to communicate and toward better information society. Accessibility to information and affordable applications will enable knowledge, freedom and women empowerment which are the essential ingredients of human development for the Arab Region and World
- Development is driven by people for people. Building up human capacity is the most important single factor for sustainable development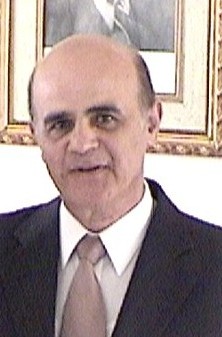 Personal Data:
Name: Khalil Ibrahim ABURIZIK
Birth Date: Sept. 28, 1946
Birth Place: Yaffa- Palestine
Nationality: Jordanian
Residency: Amman - Jordan
Social Status: Married with 5 children
Address:
Mailing Address: P. O. Box 2787 Tela Al Ali
Amman – Jordan 1195311953
Tel: +(962) 6 5334222 (Home)
+(962) 79 6666412 (Mobile)
+(1) 3196318278 , +(1) 4696196454 (Mobile)
E-mail: khalil@aburizik.net
Training:
1976 (June - Sept.): Outside Plant Engineering, Turkey, PTT
1978 (May - June): Telex Machines, France, Sagem
1979 (March - Aug.): Computers and Telex Switching, UK, Cable & Wireless
1981 (April - May): Manpower Planning , UK, Brighton University & GBT. Germany FTZ and Switzerland PTT,
1984 (September): Training Management, Japan NTC
Numerous (200+) missions, study tours, workshops, seminars and meetings in: Britain, Brazil, France, Sweden, Holland, Germany, Canada, USA, India, Thailand, Turkey, Switzerland, Singapore, Kenya and all Arab Countries.
Professional Experiences:
1991 – March 2008: ITU Regional Officer for Telecommunications Development for the Arab Region, with particular emphasis on Human Resources Development and Management at
ITU Arab Regional Office in Cairo - Egypt
1983 – 1991 : Dean of Telecommunication College in Amman - Jordan, and
Director of Training / Jordan Telecommunication Corporation.
1976 – 1983 : Instructor and Deputy Director of Training / Jordan. Telecommunication Corporation
1971– 1976 : Telecommunication Area Engineer and Manager for different telecom areas in Amman
Ministry of Post & Communication of Jordan.
Publications:
- 20+ training materials.
- 10+ articles in training management and management training.
- 20+ Presentations at regional or global conferences
- 200+ reports and studies on management and training.
Main Accomplishments:
* Consultancies and studies in over 35 countries including all Arab countries all in HRM/D ranges from design of training centers to organizational development and manpower planning etc…..
* Project Management
- Radio and TV Coverage Planning, US$ 1.086.000 for Republic of Yemen
- Website and Databases for the ITU Regional Office: http://www.ituarabic.org/
* Management and Co-ordination:
- Founder and coordinator of the Arab Network for Human Resources Management and Developmen
since 1993 until 2008.
* Training Development and Delivery:
- Development, organization and conduction of over a hundred national and regional seminars
workshops / Courses on Human Resources Management, Training Management,
Jobs Classification, Manpower Planning, Organizational Development,
Total Quality Management, High Level Management, Instructor's Training,
Training Course Development, Transformation of Telecommunication Organizations
into Competitive Companies, etc.….